The SLW Literary Agency is located in Illinois. Representing sports celebrities and sports journalists in book publishing, speaking, social media, publicity, and brand development. Agent, collaborator, editor.
GENRES & SPECIALTIES
Sports
LEADING CLIENTS
Tim S. Grover–RELENTLESS, JUMP ATTACK (Scribner)
Ric Bucher–TURNOVER (ESPN Books)
Basketball Hall of Famer Sam Smith–THE JORDAN RULES (Simon & Schuster), Second Coming (HarperCollins)
Bob Griese & Dave Hyde–PERFECTION (Wiley)
New York Times Columnist Harvey Araton–ALIVE AND KICKING
Skip Bayless–GOD'S COACH, THE BOYS, HELL-BENT
Earl Woods–TRAINING A TIGER, PLAYING THROUGH, START SOMETHING
New York Daily News Columnist Ralph Vacchiano–ELI MANNING: THE MAKING OF A QUARTERBACK
NASCAR's Joe Menzer–THE WILDEST RIDE, THE GREAT AMERICAN GAMBLE
And many others, including books by Randy Johnson, Jack McKeon, Nolan Ryan, Jackie Joyner-Kersee, Joe Theismann, Terry Bradshaw, Joe Garagiola, Tony Gwynn, Mike Singletary, Jay Johnstone, Steve Garvey, Rickey Henderson, Ron Santo, Armen Keteyian, and more.
MOST RECENT SALES / FORTHCOMING BOOKS
RELENTLESS, by Tim S. Grover; TURNOVER, by ESPN's Ric Bucher, PERFECTION, by Bob Griese & Dave Hyde, ELI MANNING: The Making of a Quarterback, by Ralph Vacchiano, CRASHING THE BORDERS & ALIVE AND KICKING, by New York Times columnist Harvey Araton; I'M JUST GETTIN' STARTED, by Jack McKeon; BUCKEYE MADNESS: Ohio State Football from Woody Hayes to a National Championship (Simon & Schuster); RANDY JOHNSON'S POWER PITCHING (Crown)
To learn more about SLW Literary Agency, enter your information for FREE INSTANT ACCESS to the Directory of Literary Agents™. It's the most comprehensive (and accurate) list of literary agencies in the world, with detailed profiles for more than 1,100 literary agents, including those at SLW Literary Agency.
Scroll below to see a sample.


SLW Literary Agency – Profile
Sample Directory Listing Below
As soon as you enter your name and email address to the right, you'll be able to see complete profiles for every literary agent at SLW Literary Agency (and every other literary agency).
Sample directory listing: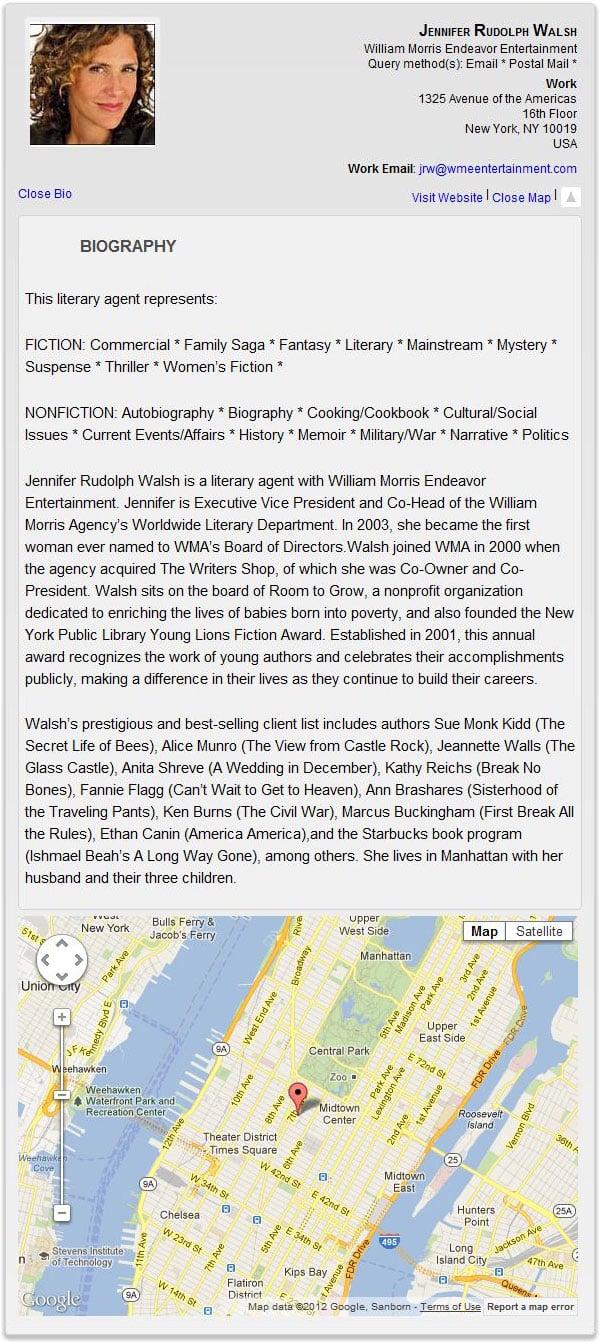 SLW Literary Agency – Get Instant Access
Get FREE Access Now to All SLW Literary Agency Profiles!
If you want the most accurate information available for literary agents at SLW Literary Agency register above now for FREE instant access to the Directory of Literary Agents™. As soon as you register you'll get instant access to the following:
* Agent bios for all agents at SLW Literary Agency
* AAR membership status
* Personal email addresses
* Mailing addresses
* Agent photos
* Preferred query letter methods (email, online form, postal mail)
* A link to the SLW Literary Agency website
* A map to the office of SLW Literary Agency
* Access to all literary agent profiles in the Directory of Literary Agents™ (1,100+)
* Search the directory by book genre/category (more than 100 categories)
Warning! – SLW Literary Agency

Most literary agency directories (print and online) are outdated, incomplete, and riddled with mistakes. If you rely on those directories to find literary agents at SLW Literary Agency, you're going to hurt your chances of getting an agent to represent you.
Enter your first name and email address now for FREE information and listings for all book agents at SLW Literary Agency.