The Andrea Brown Literary Agency was founded in August 1981 and has offices in the San Francisco Bay area, San Diego, Los Angeles, New York, and Chicago. Our agency works to bring to light the voices and perspectives of new writers as well as to nurture and develop the careers of experienced authors. Our goal, whether seeking to secure a publishing contract for a first book or a fiftieth book, is to make sure that clients are not only published, but published well.
Our philosophy is to remain a "small" agency at heart. We invest a great deal of personal care and attention in each project, and we are hands-on in all aspects of our interactions with clients. We work closely with clients in an editorial capacity and we devise a strategy at every stage of the writing process that will enable us to find the best publisher for each book. In doing so, we think about both short term and long term goals for our clients, always keeping the trajectory of a successful career in mind.
Our agents have backgrounds in New York publishing, editing, academia, business, teaching, writing and film, and one of our strengths as an agency is that we work collaboratively. Our clients have the benefit not only of their individual agent's expertise but of the combined experience and vision of the group.
As a West Coast based agency, we follow a tradition of West Coast innovation in our passion for discovering new voices, in our efforts to make New York publishing more inclusive of voices from other parts of the country, and in our attempt to see publishing trends that result from this broader perspective. We combine this approach with access, standing, and visibility in the publishing community at large. Our agents make regular trips to New York, attend industry conventions, and participate as faculty at writers' conferences all over the country. We ensure a high profile for our clients and actively keep our fingers on the pulse of publishing.
Enter your information in the form to the right for FREE INSTANT ACCESS to the Directory of Literary Agents™. It's the most comprehensive (and accurate) list of literary agencies in the world, with detailed profiles for more than 1,100 literary agents. Scroll below to see a sample.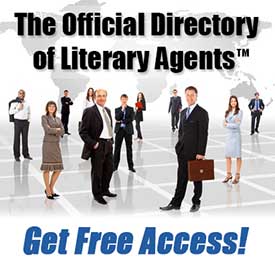 Andrea Brown Literary Agency – Profile
Sample Directory Listing Below
As soon as you enter your name and email address to the right, you'll be able to see complete profiles for every literary agent at Andrea Brown Literary Agency (and every other literary agency).
Sample directory listing: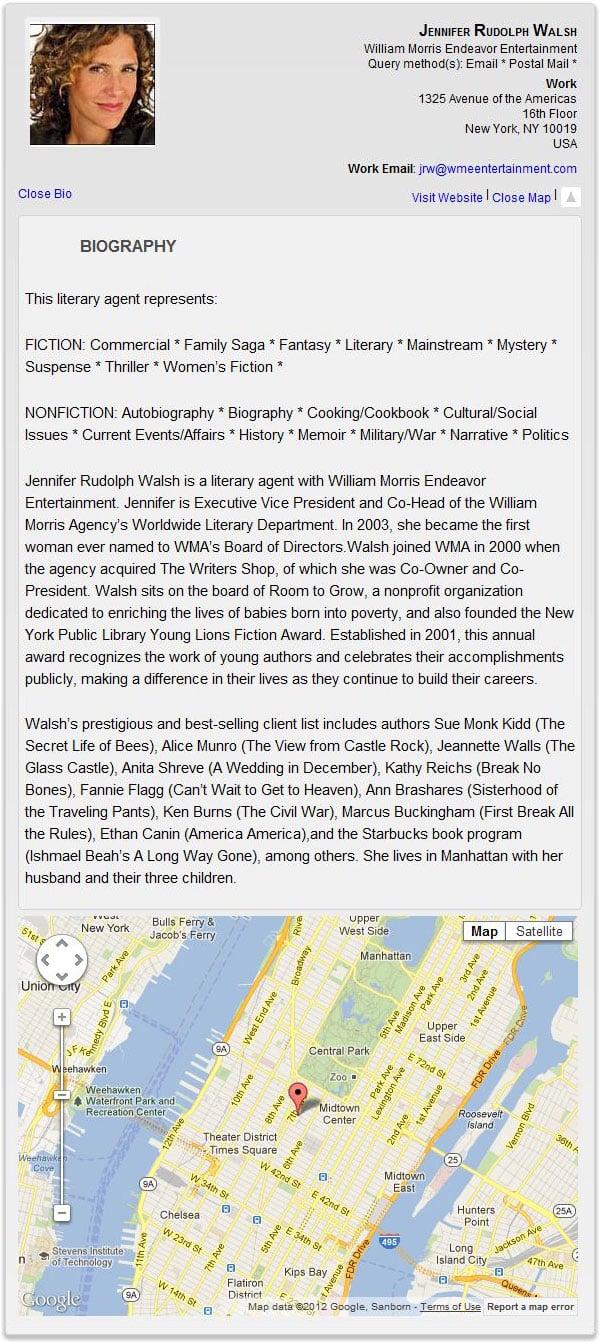 Andrea Brown Literary Agency – Get Instant Access
Get FREE Access Now to All Andrea Brown Literary Agency Profiles!
If you want the most accurate information available for literary agents at Andrea Brown Literary Agency, register above now for FREE instant access to the Directory of Literary Agents™. As soon as you register you'll get instant access to the following:
* Agent bios for all agents at Andrea Brown Literary Agency
* AAR membership status
* Personal email addresses
* Mailing addresses
* Agent photos
* Preferred query letter methods (email, online form, postal mail)
* A link to the Andrea Brown Literary Agency website
* A map to the office of Andrea Brown Literary Agency
* Access to all literary agent profiles in the Directory of Literary Agents™ (1,100+)
* Search the directory by book genre/category (more than 100 categories)
Warning! – Andrea Brown Literary Agency

Most literary agency directories (print and online) are outdated, incomplete, and riddled with mistakes. If you rely on those directories to find literary agents at Andrea Brown Literary Agency, you're going to hurt your chances of getting an agent to represent you.
Scroll back up to the top of this webpage now to enter your name and email… for FREE information and listings for all book agents at Andrea Brown Literary Agency.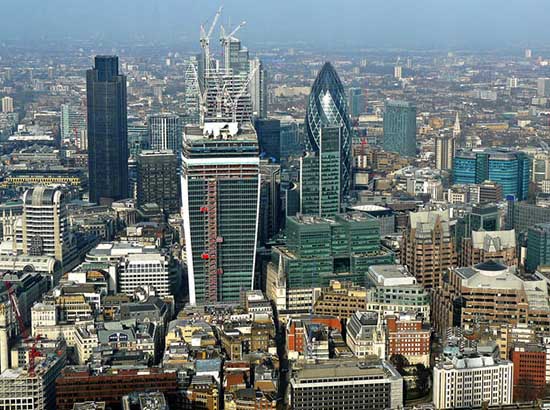 GET A LITERARY AGENT
Get free access to the Directory of Literary Agents with detailed agent listings to get a traditional publisher
Your Information will never be shared with any third party.